As the summer begins, that means finals and packing for home and the beach. I know as soon as I'm done singing at
baccalaureate
, we are headed to
Wilmington beach. I have plans to bring all of my summer carefree beach reads. To countdown (three weeks) to the illustrious trip, I've been reading some beach reads. The Black Sheep is the first in the countdown. What are your favorite beach reads?
Author: Yvonne Collins Sandy Rideout
Short Summary (no spoilers):
Fed up with her parents and all their ridiculous rules (they keep a binder full of them), fifteen-year-old Kendra Bishop writes away to The Black Sheep, a reality TV show that offers the chance to swap families with another teen. But when the camera crew shows up at her Manhattan apartment, Kendra starts to have second thoughts. Too late. Kendra's whisked away to Monterey, California, to live with the Mulligans. The carefree household that couldn't be more different that her own--complete with hippy parents, their five kids, and a pet ferret. And falling for Mitch, the Mulligan's seventeen-year-old son, only complicates things further, especially since Mitch despises the TV show and everything it stands for. But given the chance, Kendra might just be able to juggle first love, her new stardom, and a pushy TV producer who will stop at nothing for higher ratings.
In this hilarious and touching YA novel, Kendra learns to live under a new roof, but finds true refuge in the unlikeliest of places--her own family.
In public or under the covers?
The Black Sheep does a good job on holding your libido in the palm of their hands. I enjoyed reading a book that held physical romantic scenes to a minimum. Don't lose hope... there are scenes. They are well worth the wait. You will know exactly when you reach the scenes too. Your skin will gradually start to heat. Promise!
Black Sheep is a beach read. No stress, happy enjoyment, used for escape read. The book is quite predictable. However, I think that is the joy of it all. Sometimes knowing the outcome of the novel gives me a chance to soak up the tiny details.
Main character – yay or nay?
I liked the fact that Kendra was such a quirky, head strong girl. She isn't afraid to stand up for what she wants. As you explore further, Kendra takes over her life much better than I could have. I learned much from her adventures.
Including
how to protest large
billionaire
companies and to steal the heart of a boy who couldn't stand her
existence
inn the
beginning
.
Getting Over Mitch Mulligan:
First, isn't that name so tasty? As a writer, I love discovering new unique names for my characters. I'm always impressed when a name fits a character so well. At first glance, Mitch is rude. Deeper into the story, I fell for his soft core. I wasn't expecting his roundhouse change but, it was
pleasant
. Despite being your average guy, there is something about him. I wish I could figure what that something was.
I going to say I enjoyed the Mulligan parents in The Black Sheep. When I make a family someday, I hope to be
Mulligan
style parents. Chill, relaxed, in love with each other and their children, funny but, don't think there'll be no rules. You will be punished for unacceptable behavior. And then... when all is said and done, we will go back to normal.
MAYA! MAYA! MAYA! I have never read about a character that
stayed
static the entire novel. She was a witch in the beginning and the same afterwards. Maya is the other girl who stayed with the Bishops in New York while, Kendra stood in California. I'm sure the authors had a purpose for her constant rudeness. However, I had trouble reading about her
experience
. Towards, the end I'd lost all hope for her change.
Don't judge a book by it's cover:
This book,
non surprisingly
, has two covers. The first a stony black background with a white outlined sheep on it and two, the one you see above. Departing from one extreme and entering the other, the covers appear to two
different
audiences. The black one,
her
e, attracts a more older crowd. In my
experience
, books are more appealing when the have bright colors, sexy men, and "awesometastic" fonts. If I'd seen the original cover at the library, I'd probably skip right over it. Thankfully, I've learned not to judge any book by its cover.
Song this reminds me of:
I remember watching this one show called As Told By Ginger growing up. If you think about it, the theme song to this show is perfect. The opening lyrics are "Someone once told me the grass was much greener on the other side." Both Maya and Kendra want something different, but something different always tells you more about yourself as a person.
Recommendations
:
If you like the humor and thrill of a girl living in a new place, I have another book for you. Kate Brian wrote a novel about girl who goes to live with her father's best friend. He has not one, not three, but seven sons. Oh it's a riot.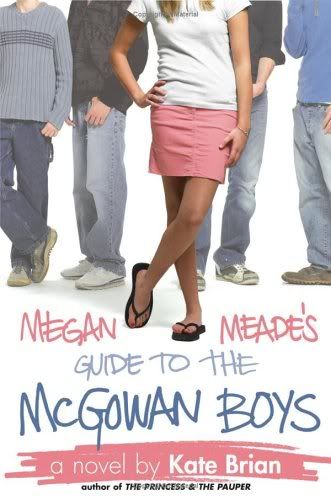 While I despised Maya, I really believed she should be in more of the story. For this reason, I'm going to give the Black Sheep a four. This isn't your typical YA novel but, it shined in every category.