To All The Boys I've Loved Before
Author: Jenny Han
Published: 2014
Summary: Lara Jean keeps her love letters in a hatbox her mother gave her. They aren't love letters that anyone else wrote for her, these are ones she's written. One for every boy she's ever loved–five in all. When she writes, she can pour her heart and soul and say all the things she would never say in real life, because her letter are for her eyes only. Until the day her secret letters are mailed, and suddenly Lara Jean's love life goes from imaginary to out of control.
"I didn't fall for you, you tripped me!"
Links: Goodreads
Book Review
Ahh, Jenny Han. Hello, old friend. I remember reading The Summer I Turned Pretty years ago in high school, falling in love with the nickname Belly and swooning over Jeremiah because I have a serious problem with loving the underdog. It's been some time, but returning to Ms.Han's writing feels like finding your long-lost favorite hoodie (or cardigan).
If you've read her previous work, then you already know To All The Boys I've Loved Before is stuffed with characters so palpable, they could easily be standing in the room with you. Once I got into them, the Song girls' antics kept the pages turning. Like Laura Jean, herself, their cute, quirky, slightly-vintage.
I will say it started slowly, at least to me. Much of the first fifty pages is background, slowly building to the culminating moment–the mysterious letters disappearance. The second it finally happened, she yanked me in, leaving me cackling at the first boy's reaction.
Getting Over…A Whole Lot of Boys:
I liked all the boys. Hear me out. Usually, I have to pick favorites, typically the one dead set on coming last. I liked even the three that are basically nonexistent, two being gone physically and one…well there, but not in the game. Point is, I could see why Laura Jean loved them, each one different, but equally swoon-worthy. For the main two, I liked that neither of them were textbook "good guys." Josh, being her sister's boyfriend, is definitely problematic and Peter is another conversation on his own. I'm sad we didn't get to explore more about the third boy, John Ambrose McClaren, but I have a feeling we'll be seeing him again.
Character Fever:
Five hours later, my favorite part: her characters. Let's dive right in.
Laura Jean: I grew to like her, most definitely. In the beginning, she was barely a voice, relaying her childhood and telling us about her past crushes. It wasn't until her personality revealed itself that I began to really connect with her. But, on many levels, her gradual reveal works, especially in relation to who she is at the beginning and who she becomes at the end. Overall, I'd totally go antique shopping with her, though I'd be the one scanning for old, dusty books.
The Other Song Sisters: Ugh, I've always wanted siblings. I know people on the opposite side of the spectrum probably envy me, but something about having ready-made friends sounds epic. Of course, there are challenges; Laura Jean could attest to that. I wouldn't mind having Margot and Kitty as sisters, though I could live without the controlling. Kitty's so cute and badass, especially for a nine-year-old. Margot…well she had her moments, but also a good heart.
Chris: We've all had best friendships that no one else understands. To be honest, I didn't totally understand Chris's role in Lara Jean's life, but that's friendship, I guess. It rarely makes sense and she came through for Lara Jean when it mattered most.
What mood?
If you're looking for a novel that's deeply emotional, set this one aside for now. Even the major conflict seemed light-hearted. A good ratio would be 83% fluff and 17% angst. Nothing too heavy, though you'll be wanting to knock a few heads, including Laura Jean's. The ambiguous ending probably ruined some hearts, but I'm lucky to have read it a year after its release. The second I hit 'publish,' I'll be cracking open the second book.
Don't judge a book by its cover:
The cover attracted me most. (That's horrible, I know). But, I love it! Love it! The light cream and pop of pink is so soft, like a fragile beauty. I feel as if I could swipe the title off with my thumb. And, her clothes. Once, we learned Lara Jean's fashion sense, I kept glancing back, thinking "wow, she'd totally wear that."
Song this reminds me of:
I've thought long about which song to choose for this novel. Whether I'd go for the romance element or the family element. Of course, because I'm a sucker for platonic relationships, I went full on family mode, meaning both family of blood and family of choice. Landslide by the duo Oh Wonder is all about leaning on those closest to you. From the Song-Covey family's rotated dinner responsibilities to Chris being the most unorthodox best friend ever, Lara Jean surrounded herself with a great support team. Plus, this song is food for my soul, so enjoy it.
Recommendations:
If you're searching for more complicated high school relationships, try these books: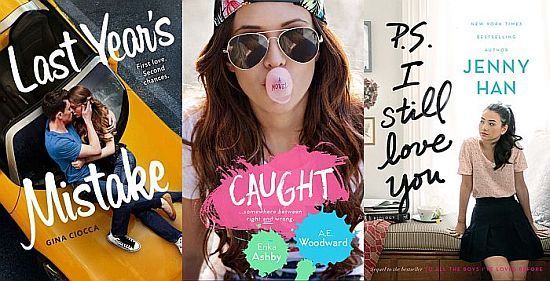 (Covers lead to Goodreads page)
Overall Rating:
I've decided to give To All The Boys I've Loved a four stars, Chris Evans, because I loved it, but I wanted more. More interaction between Lara Jean and the John Ambrose Kid. More moments between her and her sisters. Simply more. Good thing is, I have no doubt that I'll get those in the second book. So, for now, if you've read this one or any Jenny Han, how do you feel about her? Any more recommendations? As always, thanks for reading and see you next time!